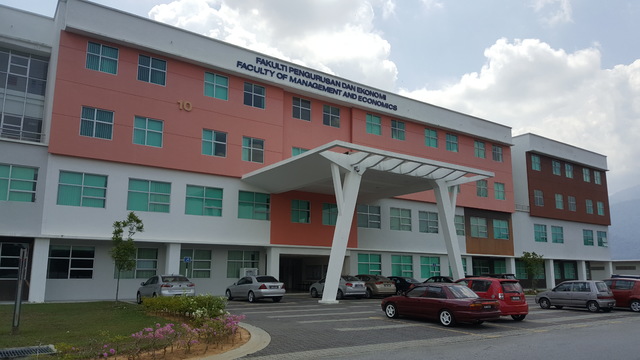 The Faculty of Management and Economics was formerly known as Faculty of Business and Economics was established on November 2002 in accordance with the development of Universiti Pendidikan Sultan Idris. The establishment of the faculty was in line with government's vision that is to produce teachers who are professionals in the field of management, accountancy and economics to cater to the needs of the country. There are four departments in the faculty, namely Department of Educational Management, Department of Business Management and Entrepreneurship, Department of Accountancy and Finance, and Department of Economics. The faculty offers degree for Bachelor of Education as well as Master's and PhD levels in the education and non-education field.
The Faculty of Management and Economics obtained the Certificate of ISO 9001: 2000 on the 18th November 2003. It was the first faculty to be awarded the certificate in the University. In an effort to strengthen the field of education, the faculty aims to further promote knowledge through teaching, research, publications and consultancy to cater to the needs of our clients and other concerned parties.
OBJEKTIF KUALITI FAKULTI
Mencapai kebitaraan akademik menerusi kecemerlangan staf akademik, pelajar dan penawaran kursus. 
Menghasilkan graduan holistik yang unggul dari perspektif akademik dan akhlak serta keusahawanan.
Menerajui kecemerlangan menerusi aktiviti penyelidikan, penerbitan, perundingan dan pengkomersilan.
Memperluaskan kolaborasi strategik bersama pihak industri dan komuniti sehingga ke peringkat antarabangsa.
Memperhebatkan tadbir urus dalam penyediaan sumber, infrastruktur dan infostruktur.
The Faculty of Management and Economics is committed to be a prestigious institution and leader in core areas of expertise based on the strengths of its shared values, excellent tradition practices, distinguished and principled academic culture, traversing national and international borders.
To uphold the national policies by producing competent and professional graduates through academic and research excellence in recognized core fields.

To develop qualified, farsighted organizational members who possess the integrity and are able to take a continuous quantum leap in the core areas of expertise.

To ensure the facilities to develop lecturers and students excellence meet the required standards.

To impact the society through publications, consultations and intellectual discourses.